Buzz Mastercard – check out the latest offer from Buzz Mastercard.
You can take advantage of the Buzz Mastercard to enjoy delicious meals at famous restaurants, or get yourself the best of consumer durables at mouthwatering discounted prices. The Buzz Mastercard delivers on its promises and aids you create your own shopping story.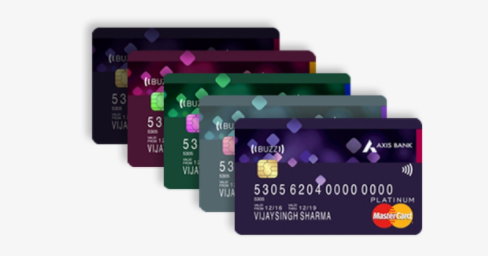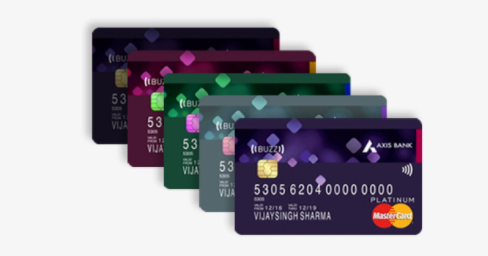 Benefit of the Buzz Mastercard
You get a minimum discount starting at 15% on dining bills at partner restaurants all over India.
On transactions that amount to Rs 2.500 or more, you can convert it into EMIs
You can make purchases with a no-cost EMI alternative on a wide range of products in online shopping transactions.
Get vouchers of Rs. 500 Rs. 1,000, and Rs. 2,500, when your annual spend on Flipkart is Rs. 25,000, Rs. 50,000, and Rs.1 lakh.
You get Rs. 1,000 and Rs. 2,000 worth Flipkart vouchers when your annual spending on the card exceeds Rs. 1 lakh and Rs. 2 lakh accordingly.
Reward Point Benefits on the Buzz Mastercard
For every Rs. 200 you spend via the card, you get 2 Axis edge reward points.
You can also earn 3 Axis edge reward points on your online shopping spends with the Buzz Mastercard.
When you make 3 purchases within the first 45 days, you get Flipkart Gift Voucher that is worth Rs.1000.
On milestones spends, you get Flipkart gift vouchers worth up to Rs 7000 annually.
Latest Offers by the Axis Bank Buzz Credit Card
Get a 10% instant discount on Flipkart from 1st – 5th of each month.
Earn a 5% instant discount on Flipkart from the 6th – 31st.
Get also a 5% on the purchase of the Redmi Go from Flipkart. For EMI payment, there's also an additional 5% discount
If you get the Realme 3 smartphone, you're entitled to a discount of 5% from Flipkart.
How to be eligible for Buzz Mastercard Credit Card
As a primary card owner, you must be between 18 – 70 years of age.
An add-on card owner must be over 15 years of age.
potential applicants can be non-residents or residents of India.
The Documents you'll need to Apply for Buzz Mastercard
A copy of your Form 60 or PAN card
A card application form that is dully-filled
Income proof, like Form 16, IT return copy, current payslips, etc.
Identity proof like driving license, PAN, Aadhaar Card, etc.
A passport-sized photograph
Residence proof like Ration Card, Passport, electricity bill, and Aadhaar, etc.
How to apply for Buzz Mastercard Credit Card
On your browser, go to axisbank.com/explore-apply-now.
Look for 'Credit Cards' and click on it.
Answer the question 'Are you an existing Axis Bank customer'?
If you tick 'Yes', you'll be shown a page where you're to enter the following info: PAN, mobile no. and date of birth.
Click "Next", to complete your application.
If 'No' is the answer
You'll be shown a page where you need to type in the details for an instant call back from an Axis bank representative.
Answer the question 'Are you an existing Axis Bank Customer?
Enter your name, mobile number, professional details, monthly income, and Pin-Code
Next, type in the displayed code to verify the code.
Finally, click on "Call Me"
How to log into Buzz Mastercard
Next, click "Login" in order to access your online account.
How to recover your Buzz Mastercard Password
Type in your login ID
Click on 'Proceed'.
How to Pay your Buzz Mastercard
There are various ways of paying your Axis Bank credit card bills. Here are the ways with which you can pay:
Via other bank savings account.
How to contact Buzz Mastercard Customer Service
You can call their customer service number. Their customer care reps are ready to offer expert services to help answer all your questions and solve your credit card problems. You can get their customer service via the siteaxisbank.com.
Also Read >>>> Truly Simple® Credit Card – Easy way to apply for Truly Simple® Credit Card