The Boot Barn Credit Card is being issued by the Comenity Bank. This credit card is unique in the sense that, you need to be enrolled in the reward program called B Rewarded program. Enrolling in their reward program makes you eligible to apply for their credit card.
The boot barn credit card rewards you for every dollar you spend using their credit card. You can sign up at any of their 200 retail store locations – for those who want to sign up in person.
Also, note that Boot Barn respects your privacy and does not share or sell your personal information. Your personal information is safe with you.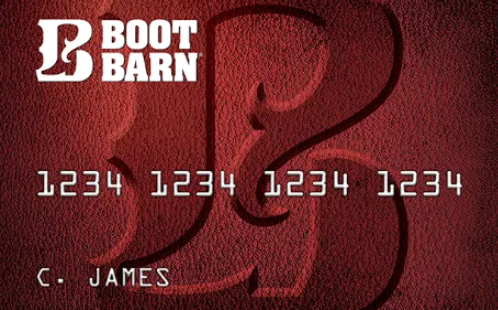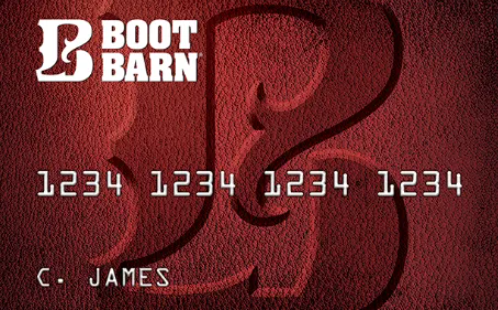 Benefits of boot barn credit card
You get 15% off your first purchase when you open and use the Boot Barn Credit Card the same day you open the account.
You get double points on every purchase when you use the Boot Barn Credit Card and you must be enrolled/enroll in the B Rewarded Program
You earn a $15 reward for every 250 points get as you use the card.
You get a whopping 20% off coupon when you get your new card. This offer is only valid for Boot Barn Credit Card users.
You receive 10% off a purchase during the month of your birthday.
You enjoy exclusive discounts and offers. Offers are only valid for Boot Barn Credit Cardholders.
How to apply for boot barn credit card
If you don't have B Rewarded Account, open up your browser and go to  https://www.bootbarn.com/enrollrewards
Fill out your Email, Confirm Email, First Name, Last Name, Address (Optional), City (Optional), State (Optional), Zip Code, Phone, Date of Birth, Gender (Optional)
Next click on "Submit"
If you already have a B Rewarded account, sign in to your B REWARDED account, then select "Apply".
After you log in, click "Apply", you'll be able to complete the application for boot barn credit card at comenity.net/bootbarn.
Please note that your earned point does expire after a while if you don't get to use them. You will be alerted when your points are about to expire.
Also note that all Rewards Credits remain valid for sixty days from the date the credit that they were issued.
How to Log into to boot barn credit card
Open your browser and open the boot barn login page
Enter your username and password
If you want to be remembered when next you want to log in, tick "Remember Me"
Finally, click on "Find My Account"
How to recover your boot barn credit card password
If you have forgotten your password, you need not worry, do the following:
Open up your browser, go to the boot barn login page
Click on "Forgot username or password"
Fill out the following information: Account Number or Username, Zip code/Postal code, Last 4 digits of SSN, Identification Type.
How do I Change my Profile Information?
You can contact their customer service by sending an email to custserv@bootbarn.com 
You can put a call to 1-888-440-2668 and request an account update
You can also drop by any store location and a Boot Barn employee will be glad to make an update on your B REWARDED account.
Also Read >>>> Burlington credit card Application.